Marketing automation platform
Create personalized experiences with smarter marketing automation
We'll use the email address provided to follow up regarding your request. Your personal details will always be treated with care in accordance with our Privacy Policy.
Dotdigital may contact you further and send you additional content where we have a legitimate interest to do so, which you will be able to unsubscribe from at any time. Note that we gather data around email opens and clicks using standard technologies including clear gifs to help us monitor and improve our emails communications.
This site is protected by reCAPTCHA and the Google Privacy Policy and Terms of Service apply.
Watch a platform demo
Level up your marketing automation strategy
With Dotdigital you can engage your customers with timely, tailored messages, wherever they are. Automate your marketing across key channels from inception to optimization. Turn customer data into meaningful experiences that go beyond the expected. See how Dotdigital helps you:
Create sophisticated cross-channel marketing automation programs
Unify and enrich your customer data
Deliver meaningful, revenue-driving customer experiences
Sophisticated marketing automation with Dotdigital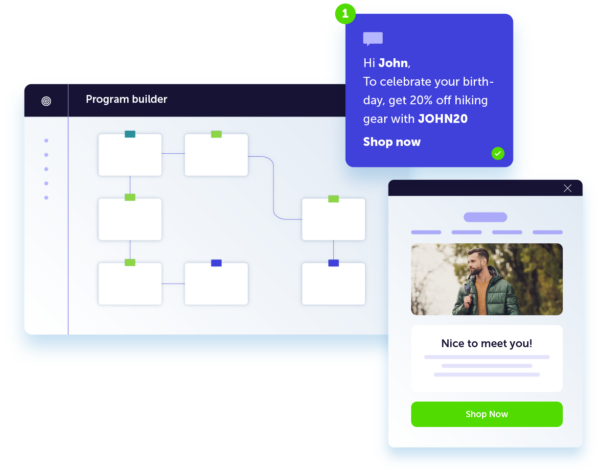 Lifecycle marketing
Drive revenue with automation programs
Email and SMS are a match made in heaven. Understanding when and where to talk to customers is vital for driving conversions. Luckily, Dotdigital has the tools you need to craft personalized customer journeys across both channels, so you can ensure you're always using the right channel to drive customers into action. Our simple to use Program Builder ensures your cross-channel messages are timely and effective to deliver the perfect customer experience.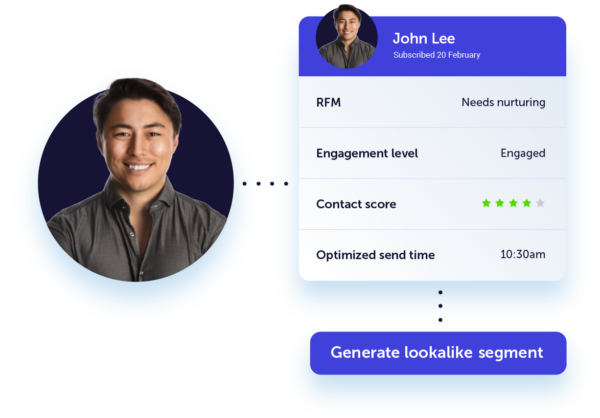 Smarter segmentation
Land more conversions with targeted messages
Turn customer data into conversions using our next-level segmentation. Our segment builder lets you create customized segments and turn eRFM insights into customer cohorts for laser-focused retargeting. What's more, you can discover what drives customers to click and convert with real-time insights in our Segment analytics.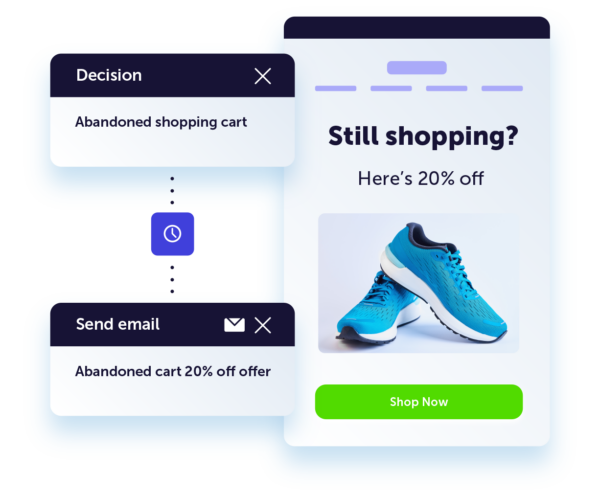 ROI guaranteed
Drive revenue with intelligent automation
Deliver 1:1 marketing on channels proven to deliver ROI. Never miss another opportunity to convert customers with email and SMS retargeting. Use intelligent automation to trigger messages throughout the customer journey. Whether they need a cart recovery nudge via email or an SMS discount code to stop them from lapsing, you can do it all in our program builder.
Go beyond expectations with Dotdigital
Cross-channel marketing automation
Deliver unparalleled marketing across all channels
Personalized marketing at scale

Our easy-to-use email editor makes designing eye-catching marketing simple. Personalization tools like product recommendations and dynamic content help turn your customer data into 1:1 tailored experiences.

Timely messages that inspire immediate action

Deliver SMS messages that will delight your customers. Create personalized, timely, and contextual marketing SMS that can be delivered in over 226 countries around the world.

Onsite experiences that can't be missed

Design online experiences that boost conversions and drive acquisitions. Using Dotdigital's landing pages and form builder, you can create personalized experiences that will help you grow your marketing lists and collect zero-party data.

Connect, convert, and grow your audiences

Boost the impact of your retargeting ads by delivering the right content at the right time. Seamlessly sync data two-ways between your social and Google ad audiences to create perfectly connected customer experiences.

Drive sales and create more opportunities

Solve customer problems in real-time with live chat widgets you can add directly to your website. Reduce friction and remove barriers to purchase by equipping chat agents with complete customer profiles for a smooth CX.

Tailored messages in the palm of their hand

Build stronger customer relationships by delivering personalized push notifications. Integrating push into your cross-channel strategy will drive conversions and an immediate uptake in app engagement.
Ready to deliver more valuable automated customer experiences?