Platform
Power customer experiences with Dotdigital
Create deeper relationships with your customers and grow your business with cross-channel marketing solutions that make campaign rollout a breeze. When you combine today's channels with data-driven personalization, everybody wins. That's the power of Dotdigital.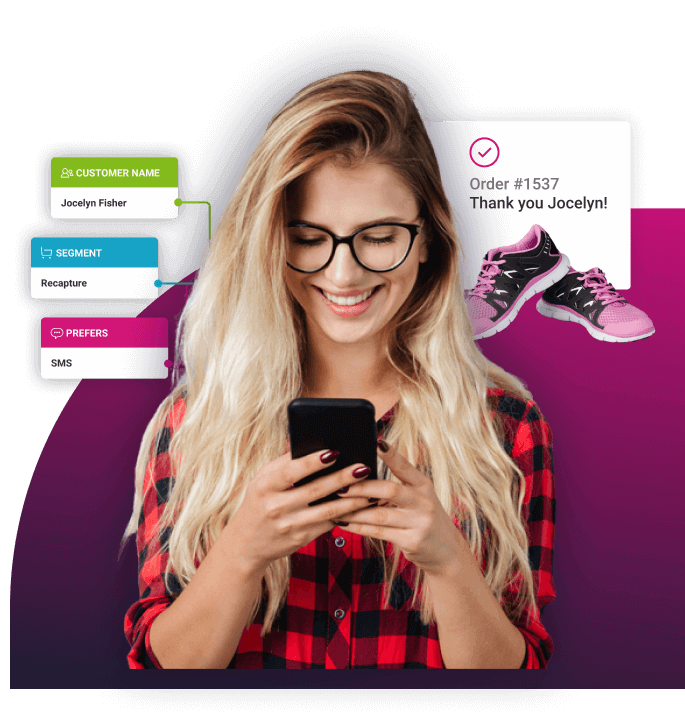 How Dotdigital works
Know your audience from every angle. Inspire your customers on every channel. Build your brand at every opportunity.
Engage your audience

Communicate with customers about the things that matter to them. Dotdigital offers the personalization tools you need to draw in audiences and simplify workloads.

Convert on data

Enriched customer insight, all in one place. Drive sales with advanced reports that are easy to understand and 360-degree customer views that can direct your next move.

Grow your brand

Unlock new potential in your campaigns. Connect the dots between customer engagement and business outcomes with marketing tools that directly link back to ROI.
Tools of the trade
The one-stop marketing automation shop

More features
All the cross-channel marketing tools you need to make campaign rollouts a breeze
Landing pages & forms

Boost customer acquisition with pages and forms that stand out. Grow your email list with popups, and employ Dotdigital's form builder to know your customers better.

Live chat

Diffuse frustrations and exceed expectations with Dotdigital's live chat tool. Handle queries fast and support purchases, banking your learnings to help future customers.

Personalization

Show you're listening with personalization that connects. Tailor campaigns with dynamic content and data-driven messages, so that each customer has a unique experience.

Segmentation

Hit the target every time with data segmentation. Identify behavior traits and shopping habits to gain an actionable, street-level view of your ideal audience.

Social & search retargeting

Bring customers back to your website. Use our Google Ads and Facebook extensions to deliver consistent experiences, re-engage customers, and drive sales with display ads.

Reporting

Each campaign tells a story. Discover what yours say about your audience. Drill down into campaign data and learn with real-time results for every metric that matters to your business.

Integrations

Dotdigital offers intelligent marketing automation and headache-free integrations with a host of technologies, so you can plot a course to hidden revenue opportunities. 

Product recommendations

Use data from your ecommerce website and leverage our powerful AI to showcase up to eight relevant items from your catalog to each individual contact.

Global capabilities

Working across time zones? Offices in multiple locations? No problem. Suit your global expansion needs with parent and child accounts, international support 24/5, and a platform into translated more than 10 languages.
We're passionate about many things here at Dotdigital; helping and seeing our clients grow is most certainly one of them. Over many years, we've developed our platform to help you boost acquisition through forms and landing pages and understand what it takes to retain customers with powerful reporting tools like eRFM to ultimately increase ROI. All this in a few clicks so you can focus on the rest of your do-to list.

Ecommerce

Make a great first impression with tailored product recommendations and simple, beautiful email campaigns.

Marketing automation

Intuitive automation and retargeting lets you build lifecycle marketing programs and plot unique customer journeys.

B2C marketing

Personalize with style, and assemble a customer database that powers informed decisions.

Creating a beautifully crafted message is only part of the battle. Driving engagement and conversion is where you need to be. Transform browsing into sales with triggered events and product recommendations that show customers you're taking notes. And turn an unengaged contact into an engaged one with marketing campaigns designed to attract attention.

Ecommerce

A customer never forgets, thanks to effective abandoned browse campaigns.

Marketing automation

Cue up real-time campaigns with smart triggers based on customer behaviors.

B2C marketing

Speak directly to your audience with mobile push and SMS solutions that make an impact.

The only thing better than a first-time customer is a long-term brand advocate that comes back again and again. Design super simple customer journeys or intricate cross-channel automation programs that keep your contacts coming back. Powered by intelligent customer insights and preference features that open the door to long-term engagement.

Ecommerce

From email behavior to order value, customer insights pave the way to perfectly customized communications.

Marketing automation

Allow contacts to specify their preferences and give consent while enriching your feedback loop.

B2C marketing

Offer always-on support with live chat that encourages conversion and addresses concerns.

Playing well with others is what we do. Pair today's tools with tomorrow's scalability. Dotdigital connects seamlessly with the platforms you're already using and is future-proof, meaning you'll only need to set it up once. From out-of-the-box plugins to bespoke connectivity with our extensive API suite, CRMs, to sales portals, we've got you covered.

Ecommerce

Lead the way with Magento, Shopify, and BigCommerce.

Marketing automation

Ramp up your use of Dynamics, Salesforce, and Zendesk.

B2C marketing

Sync data across CRM, sales platforms, analytics tools, and more.

When it comes to your customers, it's good to be a know-it-all. A single customer view helps you "level up" your marketing efforts by interrogating and applying your data to unlock opportunities you didn't know existed. Then, reassess and retarget with campaign reporting, to unearth incremental gains that show you exactly what's working—and what could work next.

Ecommerce

Use audience segmentation to visualize personas and hone your messaging.

Marketing automation

Get up-to-the-minute results thanks to program analytics that don't require an advanced degree.

B2C marketing

Establish a single customer view by consolidating every campaign, and easily track ROI.
Our Services
Supercharge your marketing
Onboarding
Get underway fast with our expert orientation team.
Creative Services
Let our design team bring renewed energy to your campaigns.
Always-on support
Dedicated specialists are available to you 24/7.